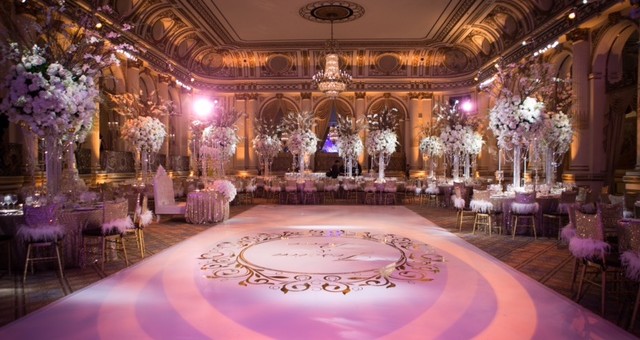 What Type of Dance Floor Is Best for Me?
Whether you are trying to plan for your Big Special Day with the best decorations at the venue or you are looking to add an exciting theme to a big celebration, the best company to seek assistance from is Bombshell Graphics. At Bombshell Graphics, we aim to please all of our customers with the most exceptional custom dance floors, floor graphics, dance floor stickers, and more. But how do you know what the right type of removable dance floor is for you and your event?
How to Find the Right Dance Floor For You
Figuring out what the best dance floor option is for you will involve you thinking of the overall tone you want to have, putting emphasis on any theme you are trying to get across, and coordinating the rest of the room with the colors of the graphic.
Consider the Theme or Concept of Your Event
It can be important to think about whether or not there is a theme you would prefer to get across, such as a party with a sports theme or wedding with a modern tone. No matter what theme you are trying to get across at your event, Bombshell Graphics has the best options for floor graphics, so you can best coordinate the space at your venue accordingly. While a sports-themed event may need a basketball court or football field dance floor graphic, another type of event may need a special design, monogram, fake tiles, footprints, logo, fake texture, or writing. Whatever your specific needs are, Bombshell Graphics is here to help you figure out the best dance floor for your theme – and we will make it happen!
Think About the Mood You Want to Set
Beyond having a specific concept or theme for your event, an important piece to consider is the mood you want to promote. If you want excitement and fun, then choosing a vibrant, colorful dance floor graphic may be the way to go. On the other hand, if you want to express an elegant and peaceful tone, then consider having a white dance floor wrap or dance floor graphics with light colors like pastels, pinks, and violet.
Do the Colors Go with the Room?
Although you may want a certain color for your dance floor, you should also try to consider what the other colors in the room may be, such as the color of the tables, tablecloths, chairs, carpet, etc. If there are specific colors, you may find it most appealing to color coordinate or use colors that go best together. If you have a bunch of bold, different colors and would rather have different colors pop throughout the venue, then you may want to make sure you have a great placement of the colors to get the idea across.
Bombshell Graphics, Best Company for Custom Dance Floors
When you need the greatest dance floor graphics to liven up your party or make the space for your wedding extra special, you can always count on Bombshell Graphics. We specialize in creating custom dance floors, dance floor decals, and dance floor stickers. Let us help you make your special event more incredible than you could have ever imagined. No company will help you discover the right dance floor for you and create it just for you as well as Bombshell Graphics.
Back to Blog