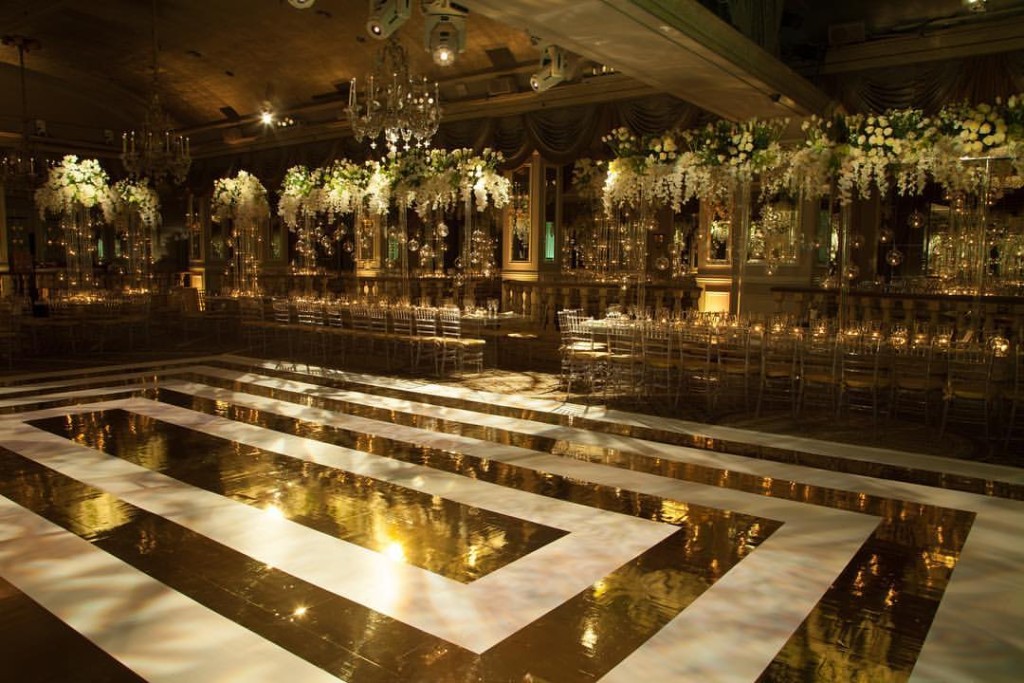 Personalized Dance Floor Design
Usually, everyone has a theme in mind when planning their special event. Your wedding, sweet sixteen or reception could be a contemporary, eclectic, or traditional theme. If you have a dance floor in the venue, you will want to ensure that it matches the theme and décor. At Bombshell Graphics, we can come up with a design that will go perfectly with the theme of your choice. If there are floral patterns on the napkins, tablecloths, and centerpieces, why not put that design on the dance floor? You can even personalize the dance floor to display the name of your event/party.
Tough And Durable Dance Floor Decals Near Me
A dance floor sees a whole lot of foot traffic, so you will need a dance floor decal that can stand up to the stress. The dance floor decals we use at Bombshell Graphics use a high-quality material, so the wrap does not tear or become removed while the guests are dancing on the floor. This means the floor will look as good at the end of the night as it did in the beginning.
How Do Your Remove Dance Floor Wraps Without Worry?
A common thought that comes up when having an event is, "I am only renting the dance floor, I don't want to damage it!". That isn't something you have to worry about your event. Our wraps can be removed without damaging the dance floor. This means that if you have a floor wrap on a rented dance floor, you will not have to risk getting your venue deposit back. Make your special day stand out in everyone's memories with a dance floor wrap. If you are thinking about having a floor wrap at your upcoming event, contact Bombshell Graphics and we will help you make the perfect day.
Custom Dance Floors Wraps
Having a customized dance floor as part of the overall decor for your event can be a great way to combine aesthetics and functionality. Bombshell Graphics will work closely with you throughout the design process, in order to ensure your vision comes to life. Our in-house graphic design team will work hard to transform your initial concept into a fantastic design. We have the high attention to detail and precision that is necessary for ensuring that your custom dance floor wrap design will exceed your standards.
Benefits of Dance Floor Graphics
There are numerous benefits to having a dance floor for your special event. Whether it be a wedding, bar mitzvah, Quinceanera – whatever it is! – dance floor graphics can make it much better. And when you choose Bombshell Graphics for their quality assistance, you'll be given the absolute best and most perfect dance floor graphics for your occasion. No matter if you're looking for a formal kind of design or a creative and ambitious decoration, our expertise and craftsmanship can design for you the right, awe-inspiring dance floor graphics for your even. To learn more about the benefits our dance floor graphics can do for you, we've listed them below:
Help set the mood and atmosphere for your party

If you're going for a certain theme for your party, then you'll find that our dance floor graphics can help you out tremendously. You can easily accessorize your dance floor and complement the theme you're going for with your special event. Or if you simply wish to decorate your dance floor just to liven up the mood, then you can do just that. Whatever occasion you're celebrating, you'll find that our dance floor graphics can improve the quality of your even drastically.

Great area to take photos

It's not too often that many would think they can simply decorate their dance floor just to improve the quality of a photo. But you can definitely do that when you order one or more of our dance floor graphics. If you want to take really good photos, you'll find that our dance floor graphics will help you out tremendously.

Can be made to fit the theme of the event

As mentioned above, you can use our dance floor graphics to fit any theme. So when you're planning your next big celebration, don't just go with the standard. Go the extra mile and create an event that's truly memorable when you order one or more of our dance floor graphics.

Graphics are made from non-slip material for guest safety

For some, the idea of adding beauty to something means having to sacrifice protection. But you won't need to sacrifice such with our dance floor graphics. Our dance floor graphics are made with non-slip material. So they can still add beauty to your party while still providing protection in order to ensure guest's safety.
Ultimately, dance floor graphics are a creative and unique way to decorate for your party. Their high-quality material can put a spotlight on your ceremony and can provide you with many other advantages as well.
Let your floors communicate your safety message
Use social distancing floor graphics to remind your personnel, customers, and visitors to keep their distance and help slow the spread of the coronavirus. Place them six feet apart as an effective visual reminder of the proper safety distance to maintain in your workplace.
Mount these printed floor graphics in offices, airports, supermarkets, retail stores, and other facilities to:
Direct foot traffic and guide people to the safest routes when navigating a facility.
Provide important safety information about COVID-19 workplace safety protocols.
Stick It Where It Matters
Our floor safety signs are engineered to withstand constant foot traffic, no matter the climate or surroundings.
Vinyl floor decals are suitable interior applications and can withstand most common floor cleaning chemicals and methods.
Printed on flexible vinyl
Made with an acrylic adhesive that adheres to most surfaces and is easy to remove.
Features a 6 mil. clear, slightly textured overlaminate film for extra protection and slip-resistance.
Classified under UL 410 for floor graphics applications.
Dance Floor Design, Decals and More with Bombshell Graphics
If you are looking for a great design to accent your event's decoration, look no further than Bombshell Graphics. We take the initial concept and bring it to life, right on the dance floor. Our design team will be able to create custom dance floor graphics, decals, and wraps that are perfect for your event. To place a design order for your special occasion, give us a call at 862-210-8408 or fill out our form here.  We provide custom dance floor graphics in Boston, New Jersey, Connecticut, Delaware, Hartford, Long Island, Massachusetts, New York, Pennsylvania, Philadelphia, Rhode Island, Virginia, Washington DC,  Westchester, and nearby areas.