---
Custom Wall Graphics and Dance Floor Decor in Long Island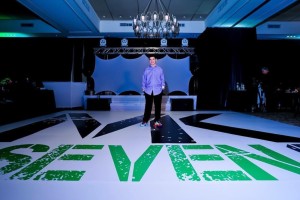 Have you been on the hunt for custom prints and event decor in Long Island to help you piece together a theme, concept or look for your next big event? It can be tricky to find all of the custom prints, graphics and event materials you need, which is why it's a success when you can find one company that has all of your custom graphics needs. At Bombshell Graphics, we cater to your needs for event decor in Long Island.
Customizing wall graphics in Long Island means the possibilities are endless and are only limited by your imagination. Whether a design is imposed over a dramatic backdrop or a bold wall graphic, it will surely grab the attention of everyone. Our wall graphics and decals are made of vinyl and are easier and cleaner than paint but have the same look and feel. They apply to your wall or surface like a sticker and can be removed by using your finger or tweezers to peel off. There's no mess and minimal prep.
Custom Wall Graphics in Long Island is a terrific way to promote your business, whether it's applying your logo on your front entryway wall or having every wall wrapped in bold colors. Our wall wraps and custom wall graphics in Long Island are also great for adding to the decor of your home. You could add quotes to your living room wall or a full-sized superhero to your child's bedroom. Nothing is off-limits!
---
Custom Event Decor in Long Island
At Bombshell Graphics, we are all about putting together the event you picture in your mind. That's why we put our hearts into the custom printing of event decor in Long Island. Regardless of the type of event you have coming up, décor printing in Long Island is an ideal way to spice up your venue. No matter the type or size of the event, Bombshell Graphics handles all aspects of your custom event decor needs.
We can fully customize banners frame props, table covers, social media cutouts, and photo booths, which are effective when it comes to creating more joyous moments with your guests. Special occasions such as weddings, bar mitzvahs, and quinceaneras all have different themes and decor needs. Elements such as invitations, place cards, and napkins can be printed to your event's theme. If you are looking for a template or a fully customized design for your printed material, our team at Bombshell Graphics can bring your vision to life.
Whether you have your own designs to use for your event or need help creating a design concept for your event, we can make this an easy process. To make your special event stand out from rest, have Bombshell Graphics create an eye-popping design for your special day. There's more to custom event decor in Long Island than having a centerpiece placed, floral arrangement set, and dressing up the venue. It's all in the details and accents when it comes to the event decor. If there is a specialty item with sentimental value or a non-traditional item you want to be decorated, we can print it at Bombshell Graphics.
---
Wedding Floor Decals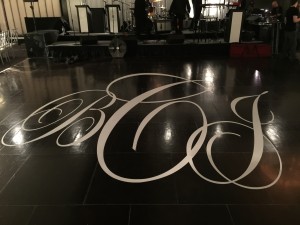 If you are looking for a unique and creative way to celebrate an event such as a wedding, then look no further. Bombshell Graphics answers your call and provides the custom printing floor decals you desire. Usually, everyone has a theme in mind when planning their special event. Your wedding, sweet sixteen or reception could be a contemporary, eclectic, or traditional themed. If you have a  floor designated for the wedding in the venue, you will want to ensure that it matches the theme and décor. At Bombshell Graphics, we can come up with a decal for your wedding floor in Long Island that will go perfectly with the theme of your choice. For instance, if there are floral patterns on the napkins, tablecloths, and centerpieces, why not put that design on the dance floor? You can even personalize the wedding floor to display the name of your event/party.
Custom printing of floor graphics in Long Island is very versatile. They can be easily installed and removed indoors or outdoors. Be sure to stand out and make a statement at your next event or venue in Long Island with a custom printed floor graphic by Bombshell Graphics! If you have been searching near and far for the perfect dance floor at venues for your wedding, then you should consider having Bombshell Graphics create your own custom wedding dance floor.
It is important to us that you have the specific look you have wanted for your big day, so let us help you dress up your venue according to your liking. Our custom wedding floor decals are the best addition you can make to your Long Island wedding. Contact us today to learn more!
---
Custom Dance Floor Decal Long Island
While not every event location or venue comes with a specific area for a dance floor. Bombshell Graphics can certainly create the space with custom dance floor decals in Long Island. A dance floor sees a whole lot of foot traffic, so you will need a dance floor decal that can stand up to the stress. The dance floor decals we print at Bombshell Graphics use high-quality material to withstand the rigors of people dancing on the floor. This means the floor will look as good at the end of the night as it did in the beginning.
No matter what type of event you are hosting, we can transform the room to go according to the appearance you want. We have created all types of custom dance floors from floral designs to funky patterns to floors with monograms and more!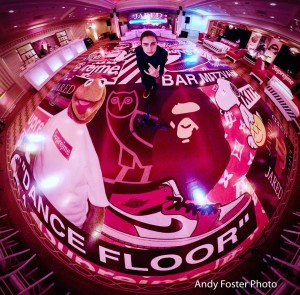 Having a customized dance floor, as part of the overall decor for your event can be a great way to combine aesthetics and functionality. Bombshell Graphics will work closely with you throughout the design process, in order to ensure your vision comes to life. It's our goal to help create the best Long Island custom dance floor decals!
---
Custom Stickers
Our custom stickers can be customized with a company logo, placed on cars, and can be created in nearly any size. They can be used in a variety of ways such as promotional giveaways, advertisements, and help bring attention to special events. Here are some of the ways custom stickers can be used.
A custom sticker with your business logo can be given as a promotional gift at any trade-show or special event. Custom window stickers or decals can be us bumper stickers as well. These are also great ways to convey advertise your business's information such as business name, store hours, and social media information.  Our custom stickers make for great address and shipping labels. We can print envelopes with branding and contact information that makes adding a return address or shipping item info to a package very simple.
Whether it's for business purposes or special event decorations, printing custom stickers in Long Island has many uses and applications. They make for a great marketing tool and are practical for labeling and organizing products. Bombshell Graphics creates all your Long Island custom printing needs.
---
Wide Format Printing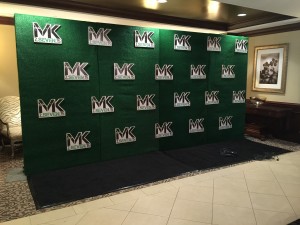 Wide format printing images can attract new clients as they act as an effective marketing tool with many different applications. Typically, large images are seen on billboard advertisements, displayed at trade-shows, or shown on a building's exterior. The advancements in printing technology have allowed for additional options for displaying images and graphics. Wide format printing in Long Island can print larger sizes than a conventional printer. They can also print on a variety of different materials, providing an assortment of options. At Bombshell Graphics, we offer a range of wide format printing services in Long Island that are great for different events such as conventions, store promotions, weddings and more. To learn more about all our custom printing services in Long Island, call us today!
---
Choose Bombshell Graphics For All Your Custom Printing Needs in Long Island
The sky's the limit when it comes to the types of graphics that can be created by Bombshell Graphics.  Regardless of the type of event, you are having, we want to come in and transform your venue to match the ideas you had in mind. It is our mission to provide a high-quality product that helps bring attention to your theme or idea. To have the greatest custom dance floor graphics, wedding floor decals, and custom printing in Long Island at your special event, reach out to Bombshell Graphics today!
Give us a call today at 862-210-8408 for all your custom printing needs in Long Island!