---
Graphics & Custom Printing Washington DC
If you're looking for a mural for a blank wall in your home or need special decorations for an event, the best custom printing company in Washington DC to seek services from is Bombshell Graphics! At Bombshell Graphics, we guarantee all of our high-quality graphics and custom printing in Washington DC for all your events, businesses, personal use, and more!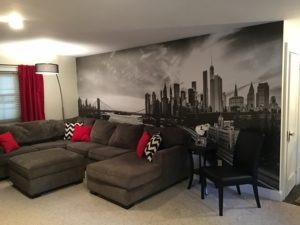 When it comes to wall graphics in Washington DC, the possibilities are endless and are only limited by your imagination. Whether your design is imposed over a dramatic backdrop or a bold wall graphic, it will surely grab the attention of everyone. Our wall graphics and custom printing are made of vinyl and are easier and cleaner than paint. They apply to your wall or surface like a sticker and can be removed by peeling one of the corners down. There's no mess and minimal prep when it comes to custom printing in Washinton DC.
Custom Printing of wall graphics in Washington DC is also a cost-effective way to promote your business, whether it's applying your logo on your front entryway wall or having every wall wrapped in bold colors. Our graphics and custom printing in Washington DC are also great to utilize as home decor. Add quotes to your living room wall or maybe a life-sized superhero to your child's bedroom wall. Nothing is off-limits! If you can imagine it, we can print it!
---
Event Decor Washington DC
No matter the theme you need to convey, Bombshell Graphics can help with custom event decor in Washington DC. To make your special event stand out from rest, have Bombshell Graphics create an eye-popping design for your special day. There's more to event decor in Washington DC than having a centerpiece on every table, floral arrangement set, and dressing up the venue. The fine details and accents matter when it comes to the event decor. If you have a specialty item that has sentimental value or a non-traditional item you want to be decorated, we can print it at Bombshell Graphics.
Whether you have your own designs to use for your event or need help creating a design concept for your event, we can make this an easy process. Special decorations are our specialty! At Bombshell Graphics, we love creating designs, patterns, and event decor to make the room look entirely different than before! We take pride in the work we do to transform locations because we are meticulous and detail-oriented all the way from creation to completion. Everybody deserves a beautiful and special event, office, or space, so let us help you create the designs you need!
---
Floor Graphics Washington DC
Utilizing Bombshell Graphics for your floor graphics in Washington DC offers a selection unmatched by any other company. We want you to have the party or wedding of your dreams, which is why we are committed to creating the most versatile custom dance floor graphics, custom printing, and personalized wedding floor designs for you. Custom printing of floor graphics in Washington DC is very versatile as it can be easily installed and removed indoors or outdoors. Make a statement at your next event or venue with a custom floor graphics by Bombshell Graphics!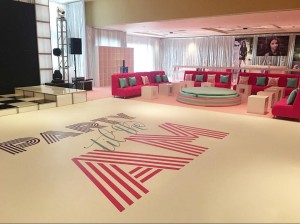 If you have spent countless hours looking for the perfect dance floor at venues for your wedding, then look no more. Let Bombshell Graphics bring the floor graphics and dance floor to you! It is important to us that you have the specific look you have wanted for your big day, so let us help you dress up your venue according to your liking. Our custom wedding floor decals are the best addition you can make to your Washington DC wedding. Contact us today to learn more!
---
Window Graphics Printing Washington DC
Bombshell Graphics wants to take your Washington DC window graphics game to the next level. The custom printing services provided by Bombshell Graphics even include window graphics printing, storefront window graphics, and custom window advertisement printing in Washington DC. When you need to convey a message, make your store known, and attract the crowd passing by, you can count on Bombshell Graphics. Our vibrant, highly legible, and enticing custom window graphics you need!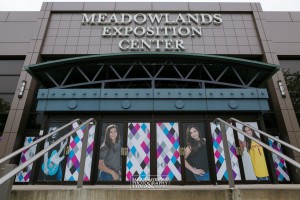 We offer beautiful outdoor and indoor Washington DC window graphics including custom signs, banners, event decor, monograms, custom advertising to meet all your marketing or business needs. When it comes to window graphics printing in Washington DC, the choice is yours! Our window graphics are custom made specifically for your windows. We ensure they will fit like a glove once installed. Here at Bombshell, we provide different options as our custom window graphics come in a variety of styles including one-sided or double-sided, frosted, and opaque.
Window graphics printing in Washington DC is guaranteed to withstand all weather conditions. You never have to worry about your window graphics washing away, fading or become discolored, or scratched. Our eye-catching window graphics printing in Washington DC is constructed of durable and waterproof materials. Contact us today to find out how we can help your business!
---
Photo Enlargements
Enlarging photographs can make your image look larger than life. Photo enlargements in Washington DC can be used at special events, conventions, and business presentations. In addition, photo enlargements can be printed in different finishes that can provide different visual effects. For instance, they can be printed on a variety of materials giving your photo enlargements a unique appeal. Depending on the event and need, enlarged photos can also be mounted and hung up in nearly any space.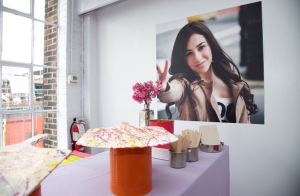 Weddings, bar mitzvahs, corporate functions, and other special occasions are fantastic ways that photo enlargements can be utilized. For example, having a photo enlarged for a wedding ceremony can add to the memories created as the wedding guests will be able to see a stunning photo of the happy couple. Photo enlargements are also useful as they can be used for corporate presentations, easily demonstrating valuable information to a large number of guests. For more options, give us a shout at 862-210-8408.
---
Why Choose Bombshell Graphics for Custom Printing in Washington DC?
Bombshell Graphics is the best company in Washington DC to seek custom printing, specialty graphics, and event decor services from. You won't find another company or team that is dedicated to designing and installing innovative graphics for your events! Whether you need custom wall graphics, custom floor graphics, or custom shaped graphics printing, Bombshell Graphics will custom-create exactly what you need! Contact Bombshell Graphics today and ask to speak about custom printing options in Washington DC.
Give us a call today at 862-210-8408 for all your custom printing needs in Washington DC!