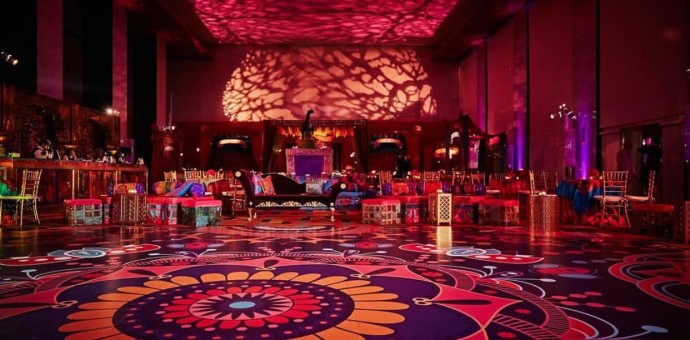 Benefits of Dance Floor Wraps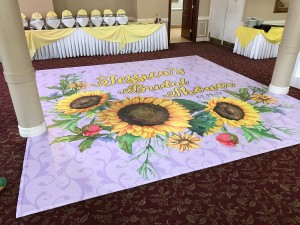 Dance floor graphics wraps have been around for some time and have been gaining popularity. They can give your event a creative design piece to accentuate the theme. Event coordinators can utilize the dance floor graphic and help you choose a dance floor to create an atmosphere that will wow the party guests. Dance floor graphics truly help your event stand out from the rest.
Dance floor graphics offer more than just a creative set piece for your event. They offer practical uses as they help make the dance floor safe with a non-slip surface. The amazing and sharp looking graphics can be made from an anti-slip material to ensure the safety of your party guests. Also removing custom floor graphics does not damage the coating or dance floor itself.
Benefits of Dance Floor Wraps
There are many benefits to having a dance floor for your wedding, quinceanera, or bar mitzvah. No matter the event type, Bombshell Graphics can custom design dance floor wraps perfect for your party. Whether you are looking for a formal kind of design or a creative and ambitious decoration, Bombshell Graphics can design the right awe-inspiring dance floor graphics for your event. Here are some of the benefits dance floor wraps can provide.
Help set the mood and atmosphere for your party
Great area to take photos
Can be made to fit the theme of the event
Graphics are made from non-slip material for guest safety
Commemorates the event or party
Dance floor graphics are a unique and creative way to decorate for your party or event. The high quality printed graphics can put a spotlight on your ceremony. For example, if you are looking for an area where you can film wedding dances for the bride and groom, or to throw the bouquet for the next prospective bride, a dance floor graphic can be the center of it all.
If you are looking to throw an event in New York, Boston, or anywhere in the Northeast, let Bombshell Graphics create the right design for your party. We have years of experience creating graphics for many different applications. From sketches to the finished product, we work with our clients throughout the whole process to ensure your design comes out great. If you have questions about our graphic design services or are in need of a quote, give us a call at 862-210-8408
Back to Blog