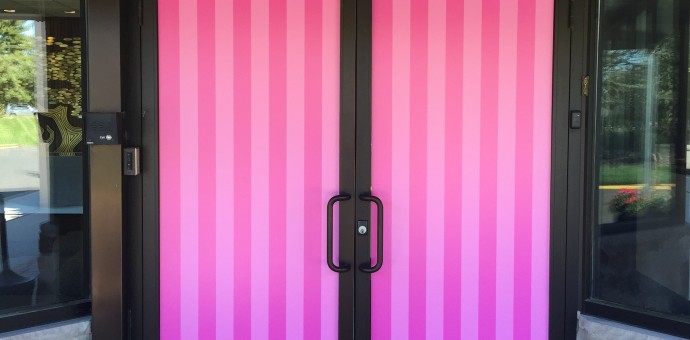 Advantages Of Advertising With Window Graphics
While it may not seem like it, every chance you get at advertising can be a difference maker for your business. This can include anything from billboards, television commercials, and yes, even window graphics. It may seem like a small, nonchalant piece of decorating for your business, but window graphics can make a significant impact on your marketing and advertising efforts. Window graphics are able to market towards your local clientele without having to actively spend money over and over again to reach people. With window graphics, you can actually take your business to the next level and not even realize it.
Benefits Of Window Graphics For Advertising
Subtle, Yet Grabs Attention

Cost-Effective

Highly Customizable
Subtle, Yet Grabs Attention
If done correctly, window graphics can be a fantastic way to grab potential clients without actively targeting them. Window graphics initial goal is essentially brand your workspace or place of business, which in turn becomes passive marketing. People may be casually walking by looking for a new place to eat find your restaurant, just because your logo or message intrigued them. There's untapped potential to grab immediate attention from passersby if you convey the overall message in a clear and concise manner. Some companies overdo their window graphics, which could turn away future customers without even trying your business out.
Cost-Effective
Window graphics are great for your advertising efforts because it's a highly cost-effective solution. Larger forms of marketing and advertising such as television spots and videos can be far more expensive, and may not guarantee the result you wanted. Window graphics are perfect for local business just getting started and want to make a name for themselves in their local market. Creating and building that brand is vital for any company on a local, statewide, or nationwide scale. Utilizing window graphics can be the right first step towards being able to explore other, more expensive avenues of advertising.
Highly Customizable
One of the largest benefits of window graphics is they're highly customizable. Because of their low costs, you're able to add, remove, and modify any message quickly. Larger scale advertising campaigns can't really be altered once the final product goes out, which makes it a risky option considering the amount of money invested in them. With window graphics, you're able to swap out deals, new promotional items, slogans, logos, and much more. They can be a small image or cover the entire window. It's entirely up to the business owner to decide what they want and how they want it.
Window graphics can be an excellent form of advertising for businesses around the country. However, there's no room for error when it comes to your advertising efforts. You need a company you can trust to design incredible custom window graphics for your business. With Bombshell Graphics, you're guaranteed to receive a phenomenal finished product that you can proudly display to promote your business year round. To learn more about our graphic services, contact us today at (862) 210-8408.
Back to Blog