We are here to help you achieve your creative goals through printing!
Bombshell Graphics is an authority in the evolving market of print and design. We recognize the growing demand for high-quality thoughtful work in this industry and we bring an experienced critical eye to all elements of our products.
Quality
Quality drives every part of your experience with Bombshell Graphics
● In the products we choose
● In the designs we create
● In the relationship, we maintain with you throughout the entire purchase process from consultation to installation
Client Care
We have built relationships with our clients and go out of our way to maintain them. The best way to do that is to exceed expectations. You are about to experience next-level client care.
The Knot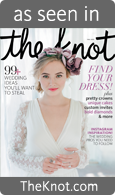 We are proud to announce that we are now featured in The Knot.

Please feel free to browse our storefront by clicking on the image to the left and look through all of the available options we have for weddings, wedding planning, receptions, and related events.
And if you want to leave us a review just use the link to your right. We appreciate any and all feedback you want to share.
Designing With You
We work with our clients to put their vision on paper. We love to encourage out of the box thinking and create new and exciting ideas with every job. Creating your custom design is an easy and collaborative process.
An Obsession With Perfection
● Your designs come alive with our experienced eye for detail
● Your deliveries will always be on time
● We don't rest if every particular isn't completely worked out
At Your Disposal
We are here for all of your needs – any question, any size event, any work you need to be done. From hanging small signs to an installation covering the entire floor of the event space, we are the company to call.
I'm Ken Hines, and I founded Bombshell Graphics. Always committed to staying ahead of the evolving printing market, my equipment is state of the art, my design aesthetic is on-trend, and I'm fully immersed in the event world to keep my ideas fresh and your event better than the one you went to last week! I'm a hard worker with a ton of hustle and I'm excited to start designing with you!