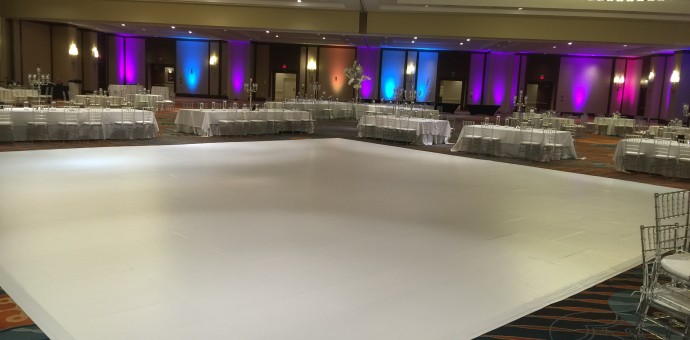 Rented White Floor vs. Vinyl White Floor: Making the Right Choice.
9 out of 10 times when a client calls in need of a white dance floor, the same question occurs over and over; what makes your floor different than renting a plain white dance floor?!? I could go on and on describing the major pros that go along with using our vinyl white floors…so I'm going to.
First off, one may argue that the two floors are comparable in price, however what you get with the white vinyl is a brand-new, never touched or worn floor. It is guaranteed to be blinding white every time. Who wouldn't make that rock star decision from the start?!
Yes, it does sound ideal to just rent a white floor and be done with it. No stress, no worry, no bother, you know what you're getting…or do you? We've had clients call us up hours before their wedding to wrap their dance floor in white vinyl because the "white" dance floor that was delivered was not only dirty, but dented, scratched, old and far from the glistening white that they had imagined. Not only did they pay more money for an old, dingy floor, but they now had to spend more to correct it and get what they actually envisioned; a flawless, white, brand new floor to pull the room together.
As if these reasons haven't swayed you already, white vinyl will come out seamless. If you are a stickler for seams and you want everything to look perfect and smooth, we're your people. Everything gets covered including all lines and moldings. It looks like one giant piece of white instead of a bunch of tiles locked together. It leaves people admiring the entire look of your event instead of drawing attention to the tiles and lines, which in turn will have them notice the dirt and imperfections of the rented floor. Just food for thought.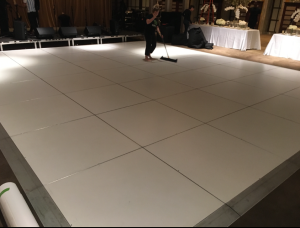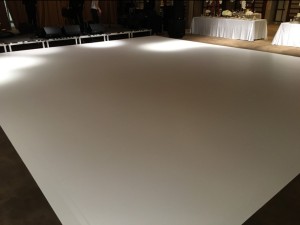 And if you are STILL skeptical, take a look at some comparisons. I gather you will make the right choice and you WON'T be disappointed.
Back to Blog