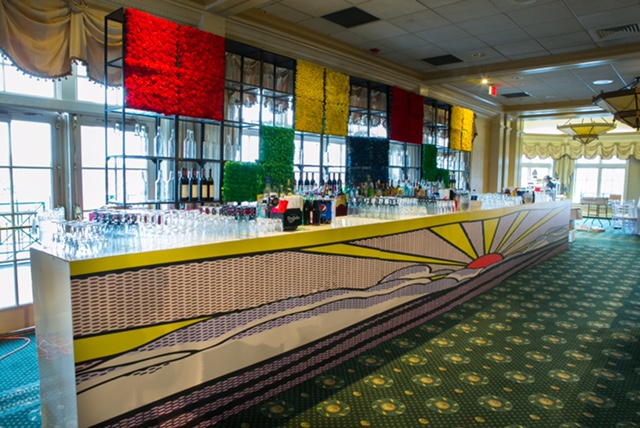 Event Decor Printing
Regardless of the type of event you have coming up, décor printing is an ideal way to spice up your venue. No matter the type or size of the event, Bombshell Graphics can handle all aspects of your event printing needs. We can create banner frame props, table covers, social media cutouts, and photo booths, which are effective when it comes to creating more joyous moments with your guests. Many individuals use our services for birthdays, weddings, anniversaries, graduations, reunions, corporate events, press conferences, and other special events. Whether you have your own designs to use for your event or need help creating a design concept for your event, we can make this an easy process.
Print Materials
Coordinating what printed materials you will have helps with the overall look of the special event. Printed materials often add to the overall theme of your party and help accentuate the decorations. For example, print materials such as menu cards, programs, place cards, and table numbers can all match the theme of your special event! Having plainly printed materials can actually take away from your events overall decoration, so it's ideal to have everything match.
Custom Event Decor Printing
Special occasions such as weddings, bar mitzvahs, and quinceaneras all have different themes and printing needs. Elements such as invitations, place cards, and napkins can be printed to your event's theme. If you are looking for a template or a fully customized design for your printed material, our team at Bombshell Graphics can bring your vision to life. If you need banners in different colors, window clings graphics, or a completely unique and customize event print job, we'll be able to facilitate. 
Specialty Decor Printing
To make your special event stand out from rest, have Bombshell Graphics create an awe-inspiring design for your special day. There is more to event decoration then having a centerpiece placed, floral arrangement set, and dressing up the venue. It's all in the details and accents when it comes to decorations. If there is a specialty item with sentimental value or a non-traditional item you want to be decorated, we can print it at Bombshell Graphics. Here are some of the specialty items we have decorated for our clients.
Pillows – pillow sheets
Glassware – glasses and wine glasses
Ceramics – mugs, and plates
Technology Accessories – mouse pads, and phone cases
Accessories – beer can koozies and et cetera
Benefits of Event Decor Printing
Customizable

One of the best things about our event decor printing is that you have the choice to customize your products the way you want them to. You can design your banners or decals the way you like them that you'd think would help increase the quality of your event. Or, even better, when you contact us, we might be able to give you a unique and customizable event print job. If say, for instance, you're in need of a large decal that you need to be fitted on a self-serve bar, we could probably do it for you. Each even that our decor printing is needed for is unique, so we always do our best to remain versatile and give you what you want. Don't hesitate to ask us about what we can do for your event. Odds are, we can print it for you!

Perfectly Fit Your Theme

Decorating your event to fit a certain theme involves more than just getting the right decorations. It also means getting down to the exact details. Sure, your Hawaii-themed party can be good enough by getting coconut husk cups, or even grass colored tassels for the tables. But you can do much better by getting custom event decor printing. With our services in event decor printing, you can complement your event with a wide beach and sunset background decal that you can place on the wall. Or you can even get quality dance floor stickers showcasing popular flowers that you can find in Hawaii. Whatever it is you want, Bombshell Graphics can more than likely make it for you.

Makes Lasting Memories

What is perhaps the greatest thing about our event decor printing services is that we can help make your event much more memorable. By accessorizing and decorating your event to its fullest potential, attendees will remember it for a long time, which will make lasting memories for you, friends, and family to reminisce on. Don't just give your event the standard accessorization. By doing so, it will only be talked about for a few days after. Give it the pizzaz it needs so that your guests will always talk about the time they attended your special occasion event. When you want only the absolute best service to help you do this, call the experts at Bombshell Graphics. We're more than experienced to provide you with the quality materials that you need.
Decor Printing for Your Special Event
If you are looking for a specialty design to add to your event's décor, look no further than Bombshell Graphics. We take your initial concept and bring it to life. Our design team will be able to create custom event graphics, decals, and wraps that are the perfect décor for your special day. To place a design order for your special occasion, give us a call at 862-210-8408 or fill out our form here.   We offer decor printing in Boston, New Jersey, Connecticut, Delaware, Hartford, Long Island, Massachusetts, New York, Pennsylvania, Philadelphia, Rhode Island, Virginia, Washington DC,  Westchester, and nearby areas.