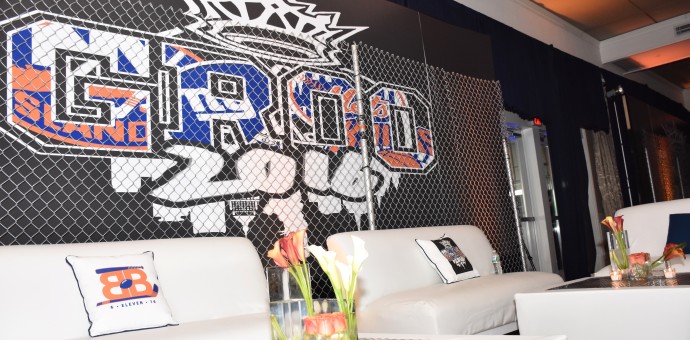 Take Your Event To The Next Level With Bombshell Graphics
Incredible Dance Floor and Wall Graphics From Bombshell Graphics
A reception for a wedding, sweet sixteen, or bar mitzvah celebrates once in a lifetime events. Making sure these events are memorable can simply take having the right decorations such as a custom dance floor or wall graphics. Bombshell Graphics offers a high-quality printing service for interactive media surfaces. We are able to perform many benefits to take an event to the next level.
Advertising an Event
Bombshell Graphics can completely cover the process of visual media production for the advertisement of an event. Our wide format printing devices allow the creation of amazing graphics that can be printed on any material and at any size. There is no limit to the creativity of potential places where advertisements can be portrayed. Whether it is stickers with a company logo on them, large banners for grabbing people's attention, or wall graphics for getting up and close with the audience, we have it covered. A sticker can be placed on purchasable goods and forms to gather attention to a specific message that can also be peeled off and kept as a reminder.
Making The Event Experience With Custom Dance Floor Graphics
Once your event is finally taking place, making sure it is a success depends on the enjoyment of the guests. The success of portraying a theme at an event heavily depends on the graphics and scenery used in the area. If an event takes place in a reception room, dance floor graphics will be important to giving the guests a feeling of excitement.
Custom floor graphics, floor stickers, and custom floor decals are a few of the methods Bombshell Graphics uses to emphasize a theme. The floor is an important part of any environment, and it will grab the attention of the guests in one way or the other. If there is a nice design on the floor, the environment is greatly improved to the same effect as if a wall had a design. Custom dance floors are also a clever use of space. They are located in the center of the room so they can be seen by all and they are part of the floor so they don't use up any of the room's capacity like a sign would.
As a part of the floor, custom designs can also provide some interactivity to participants. For example, an aesthetic of a flowing wind can suggest the direction in which dancers travel across the floor. Our vinyl wrap printing leaves a durable coating on the floor to protect the graphic from the heavy traffic that it will endure throughout the night. Call Bombshell Graphics now at 862-210-8408 to get your custom dance floor or other printing products.
Back to Blog