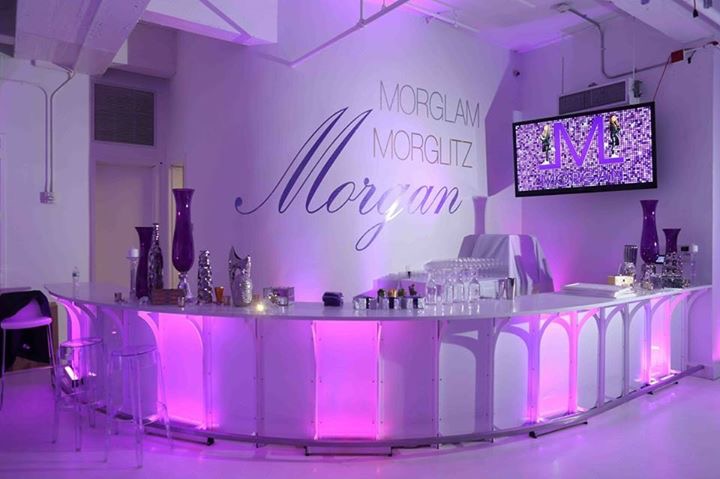 Wall Graphics for Special Events
Have you ever wanted to completely customize the look and mood of your special event? Most wall wraps and murals are digitally printed on vinyl with a protective overlaminate to both protect the print and give the desired finish (gloss, luster, or matte). Vinyl wall graphics and decals are easier and cleaner than paint but have the same look and feel. Apply decals like a sticker and remove them by using your finger or tweezers to peel old graphics off. There's no mess and minimal prep.
Vinyl Wall Graphics Options
Options for vinyl wall graphics include digitally printed and textured printed wallpaper. The possibilities for wall wrap design are endless and are only limited by your imagination. Whether a design is imposed over a dramatic backdrop or a bold wall graphic, it will grab the attention of your party guests. Although wall graphics have become popular in indoor venues, wall graphics can be used for outdoor venues too.
Outstanding Wall Decals and Graphics
Vinyl Wall Art is created to enhance the decorations for your special occasion. All our decals are made of high-quality sign vinyl and can be used indoors and outdoors. The outdoor signs are durable and can withstand inclement weather conditions. As with all of our wall decals and graphics, they can feature a custom design of your choice and it can be applied to nearly any surface type.
Cost-Effective & Easy To Apply
Decorating your event with wall stickers is a great alternative to hanging wallpaper. Stickers do not damage the wall and are easy to adhere and remove. Our quality wall graphics are made out of strong materials and are spill resistant, so they won't stain. All you have to do is simply peel the sticker off and attach it to the surface you want. Yes, wall stickers are that easy to attach.
No Marks or Stains
When the time comes to remove a wall sticker, it's simple to do and does not require removers, and excess trash. Traditional wallpaper can leave residue and damage the walls it was adhered to. All you have to do with our wall decals is to take a hairdryer over the wall decal, and then peel it off. There's no paint, paste or residue left behind, so the walls aren't damaged during the removal process. That will help you receive your full venue deposit back after your special event. 
Customize Where You Work & Play
The ability to decorate your living space and your workspace has come a long way. It used to be that you'd tape concert posters on the walls or hang cheaply-made motivational frames. But now, modern printing and graphic design can allow you to add stunning wall graphics to any environment with no hassle whatsoever.
Including an expertly designed wall graphic in your house or office setting grants your home with a new added dimension. Instead of having a floor rug bring the room together, or going to great lengths in having a featured wall painted, you can add a wall graphic instead. This graphic can range from a beautiful perspective of the city or it can be one massive photo of a sports team you admire. The choice is yours.
Get That Sales Edge
If you're looking for a way to increase your sales and generate more revenue, you might be surprised to know that a wall graphic can help you with that. Wall wraps and murals are designed and digitally printed by our specialists to help provide you with an easy and stunning way to transform your business. This can be especially used when you don't want to change your store's decor.
Bombshell Graphic's vinyl wall graphics can be utilized for both indoor and outdoor use. With these graphics, you can promote sales and introduce a new product. But most importantly, you can bring in customers with the help of a dramatic and eye-catching backdrop or a bold, vibrant piece of wall art. Our outdoor pieces are durable and are made to withstand the elements.
Make Your Next Event Pop With Wall Graphics
If you need advertising done for a huge event, Bombshell graphics has you covered. If a wedding is coming up and you need something to help it pop, we can help you with that, too.
With our wide format printing devices, we're allowed to create for your amazing graphics of all sorts that can be printed on any material at any size. When you hire Bombshell Graphics, there is no limit to your creativity's potential. More so, there's no limit as to where you need wall graphic for.
Whether you need a stick with a company logo on them, or a large banner to help grab your guests attention, or even a wall graphic that's meant to get up and close with an audience, we got you covered.
Order Custom Wall Decals and Vinyl Wall Graphics
If you are looking to order vinyl wall graphics and decals to accent your event's decoration, have Bombshell Graphics create it for you. We take your design ideas and bring them to life. Our design team will be able to create custom vinyl wall graphics, decals, and wraps that are perfect for your event. We offer wall decals and vinyl wall graphics in Boston, New Jersey, Connecticut, Delaware, Hartford, Long Island, Massachusetts, New York, Pennsylvania, Philadelphia, Rhode Island, Virginia, Washington DC,  Westchester, and nearby areas. To place a design order for your special occasion, give us a call at 862-210-8408 or fill out our form here.