---
Boston Custom Wall Graphics Boston
At Bombshell Graphics, we specialize in exceeding expectations and fully understand the growing demand for creative and thoughtful work in the evolving market of custom print and design. Our custom printing and wall graphics in Boston is one of our strong focuses. Our trending presence in the industry is a direct result of our meticulous attention to detail, a strong reputation for excellence, and a consistent ability to provide flawlessly stunning results for our clients.
Our printers can print on just about any surface and there are no size limitations. We can help your business stand out, add beautiful decor to your home, or create a beautiful custom dance floor for your event or wedding!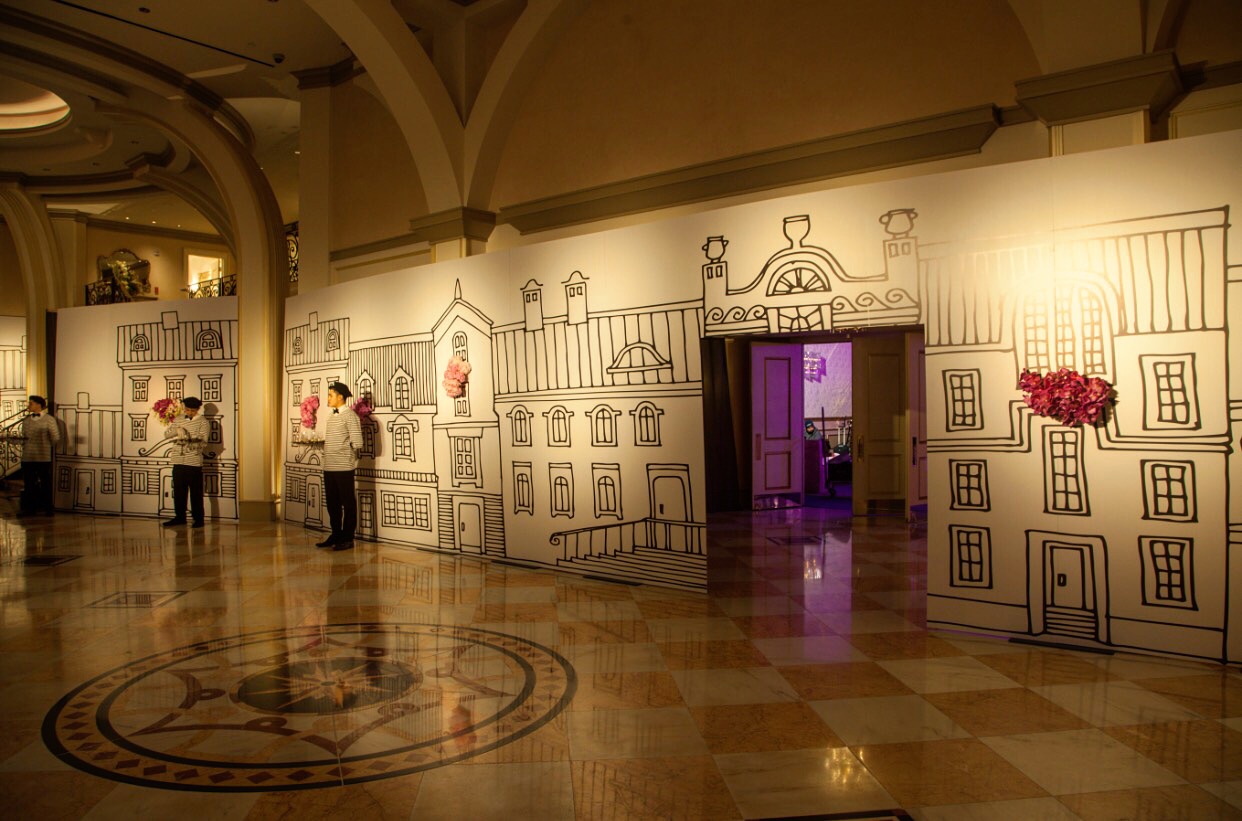 When it comes to custom wall graphics in Boston, we will help you every step of the way. The possibilities for custom wall graphics are endless and are only limited by your imagination. Whether a design is imposed over a dramatic backdrop or a bold wall graphic, it will surely grab the attention of everyone. Our wall graphics and decals are made of vinyl and are easier and cleaner than paint but have the same look and feel. They apply to your wall or surface like a sticker and can be removed by using your finger or tweezers to peel off. There's no mess and minimal prep.
Custom Wall Graphics in Boston can be a great way to promote the brand of your business, whether it's applying your logo in your front entryway or having bold colors on every wall. Our wall wraps and custom wall graphics in Boston are also great for decorating your home.  From adding quotes to your living room to a full-sized superhero to your child's bedroom. Nothing is off-limits!
---
Custom Dance Floor Printing in Boston
Bombshell Graphics can help transform your event and breathe magic into any environment by finishing off the room with custom dance floor printing and personalized floor graphics in Boston! Having a custom dance floor in Boston, as part of the overall decor for your event can be a great way to combine aesthetics and functionality to your venue. Bombshell Graphics will work closely with you throughout the design process, in order to ensure your vision comes to life. Our in-house graphic design team will work hard to transform your initial concept into a fantastic design. We have meticulous attention to detail and precision that is necessary for ensuring that your custom dance floor wrap design will exceed your standards.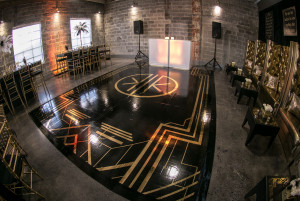 Our custom dance floor printing in Boston really adds that extra element of stunningly functional decor that is perfect for your wedding, party, gala, social event, or other special occasions! Your dance floor will see a lot of foot traffic, so you will need a dance floor decal that can stand up to the stress. The dance floor decals we use at Bombshell Graphics are printed on high-quality material, so the wrap does not tear or become removed while the guests are dancing. This means your custom dance floor printing design in Boston will look as good at the end of the night as it did before it began.
In any occasion, Bombshell Graphics provides the best quality Boston custom printing services, so you are sure to have the space of your dreams. We aim to impress, so don't expect anything less! If you are looking for a great design to accent your event's decoration, look no further than Bombshell Graphics with our custom dance floor printing in Boston.
---
Boston Window Graphics
Bombshell Graphics wants to take your Boston window graphics game to the next level. We offer beautiful outdoor and indoor Boston window graphics including custom signs, banners, event decor, monograms, custom advertising to meet all your marketing or business needs.
Windows are more than just openings to let sunlight in or let others look into your establishment. The possibilities we offer are endless. Boston window graphics are an exceptionally helpful element to a company's branding. Our custom printing of window graphics in Boston can show off your product and help promote your business. Utilizing our custom printed window graphics exposes your company to both foot traffic and people driving by.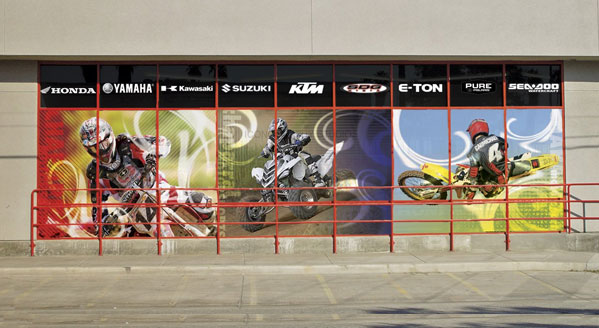 It can often be tough to stand apart from other businesses in Boston, but Bombshell Graphics has the solution. When it comes to creating your custom window graphics in Boston, the choice is yours. Our window graphics are custom made for your windows and your windows only. Our Boston window graphics will fit like a glove once installed. We provide different options as our custom window graphics come in a variety of styles including one-sided or double-sided, frosted, and opaque.
Being outside, custom printed window graphics in Boston are guaranteed to withstand all weather conditions. Thanks to Bombshell Graphics, you never have to worry about your graphics being washed away, discolored, or scratched. Our beautiful window designs are also constructed extremely durable and waterproof. Contact us today to find out how we can help your business!
---
Floor Graphics Printing Boston
Are you searching for a way to make your brand or your business stand out among the masses? This can be a constant challenge but can be overcome by using floor graphics. A number of businesses and office spaces in Boston are now utilizing their floor space to add ambiance and professional aesthetic appeal that positively impacts productivity. Your business's floor or front lobby has astronomical potential, whether you're directing traffic, promoting an event or just updating your look. Our Boston floor graphics printing solutions can help tremendously!
Custom printing floor graphics in Boston can help emphasize an event, public area, and more. Imagine any potential customer who is walking in a big shopping mall and then all of a sudden they can't help but notice a cool, colorful floor graphic. Within seconds, that colorful floor graphic has caught your potential new client's attention with your business's logo. Custom printing of floor graphics in Boston is a highly effective marketing tool and can be applied anywhere on a flat surface. Not only are they great for building brand awareness, but our floor graphics can be customized to promote special events or products.
If you are looking for a unique and creative way to commemorate an event or to advertise in a public space, floor graphics are the way to go! Not only can they promote brand awareness and engage new customers, but the graphic can be custom designed. Custom floor graphics printing in Boston is very versatile as it can be easily installed and removed indoors or outdoors. Stand out at your next event or venue in Boston with a custom printed floor graphic today!
---
Why Choose Bombshell Graphics?
Bombshell Graphics is focused on providing the highest quality Boston custom printing style. Our top tier design services are only matched by our unrivaled professional printing equipment and installation experts. We go out of our way to build and maintain amazing relationships with our clients by exceeding expectations on every project. Whether it be a custom wall graphic decal, custom floor graphic, photo enlargements, custom stickers, signs or banners, or any promotional materials for your business. Our team is here for all your customized graphics needs, regardless of what you need to be done.
You've come to the right graphics and decor printing place! We take pride in providing the best quality results without all the wait. Unexpected printing needs often seem to arise at the most inopportune times or around important deadlines. Here at Bombshell Graphics, we ensure our always amazing results are only matched by our speedy turnaround times and quick delivery. Trust in Bombshell Graphics for all your custom printing needs in Boston!
Give us a call today at 862-210-8408 for all your custom printing needs in Boston!