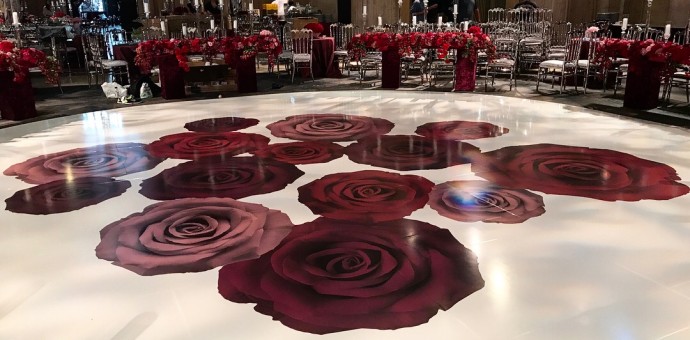 Benefits of Wedding Dance Floor Stickers
The pageantry and elegance of a wedding are unlike any other type of event or party. Feelings of overwhelming joy and happiness fill the air at a wedding celebration. Everyone from the bride & groom to the wedding guests always has a wonderful time at a wedding. One of the aspects of a wedding that makes it special is the decorations. Having the right decor can set the mood and enhance the wedding atmosphere. One great way to enhance the wedding decor is to have dance floor graphics installed. A wedding isn't complete without dancing and a dance floor graphic can be custom designed to match the wedding decorations. Having wedding dance floor stickers and decals are a unique way to add some flair for a wedding. These are the benefits of dance floor graphics that are perfect for a wedding in New Jersey.
Decoration Enhancement
Weddings are filled with flowers, ticker tape, ribbons, and other fabulous decorations. One area that is often overlooked in regard to decorations is the floor. The floor has plenty of potential for creative designs and ideas that can wow and awe wedding guests. Most dance floors have a hardwood finish, and a dance floor decal or sticker can be applied directly on the surface. The stickers are made of vinyl material that won't rip or tear when guests step or dance on it. The dual purpose of style and function makes dance floor graphics great for a New Jersey wedding.
Easy Install and Removal
The setup and breakdown of a wedding is difficult and challenging. It can lead to physical and mental stress for the party planners as the work is tedious and demanding. A wedding dance floor decal or sticker is easy to apply and remove. The ease of dance floor graphics makes it an ideal decorative piece to include for weddings. They can be placed on nearly any flat surface or dance floor. There isn't any sticky residue or chemicals that damage the surface underneath. When removing the graphic, it doesn't rip or tear the material itself.
Indoor And Outdoor Use
Wedding dance floor stickers can be placed in a variety of places and they are not limited to an indoor venue. Ballrooms and hotels are typical wedding venues for most couples looking to tie the knot. These events are usually held at indoors venues that have a designated dance floor area in which a decal or sticker can be applied. Outdoor venues may not have an area for a dance floor, or they use a portable dance floor. Luckily, dance floor graphics can be used for both indoor and outdoor venues.
Stand Out
The dance floor is one area of opportunity that can be used as featured decor. With such a large surface area, a dance floor graphic or sticker can be used to accentuate the decor of the wedding. It can be used to highlight a logo or the name of the couple to add to the personalization of the wedding. Dance floor graphics are great for photos and to showcase the wedding ceremony. Having wedding decorations stand out is one of the ways to make the special day, even more spectacular.
Weddings are one of the most special events that a person can attend. It's a joyous occasion filled with splendor and excitement. Applying a dance floor sticker or decal is a unique and creative way to decorate a wedding. Bombshell Graphics is the North East's premier custom dance floor graphic company. Our service area includes New York, New Jersey, Philadelphia, Boston, and more. Contact Bombshell Graphics today for a free quote on a dance floor graphic at 1-862-210-8408.
Back to Blog