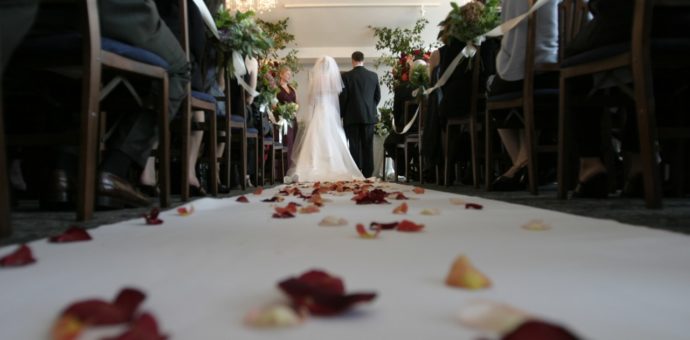 Five Most Important Things To Have When Planning For A Wedding
Everyone dreams of what their wedding will one day look like. They envision the gorgeous white dress, the six-tier cake, their friends and family surrounding them, and everything else that comes with this incredible day. What everyone forgets is the sheer amount of planning and effort that goes into a wedding. It can become extremely overwhelming when everything comes crashing at the same time. Whether it is dance floor graphics in the reception room or the finding the perfect, there are plenty of things necessary to the planning of a wedding.

What To Know
Be Efficient




Invite The Right People




Decorations Make The Party Flourish




Have An Incredible Cake




Get A Wedding Dress Nobody Will Forget



Be Efficient
Making the guests feel welcome is important, but also making the experience go as efficiently as possible is important. Creating banners or graphics with space for writing allow directions to be clearly visible when the guests arrive. If the guests know where the wedding is taking place at but not necessarily which room it is in, some confusion can occur. Having the experienced planned out from the guest's perspective will make everything much more organized.

Invite The Right People
We all wish we could invite everyone to our wedding. Unfortunately, sometimes it's not possible. This makes picking a set amount of people extremely difficult. When choosing people to attend, first decide on immediate family and friends you couldn't possibly not invite. Next are the people that you should invite, even if you're not entirely close to them. Finally, go through the troublemakers. There could be certain family or friends that will cause chaos if they see someone else, or may spend too much by the bar and wreak havoc afterward. This day is about you and your loved one, and nobody is going to take that away from you. Everyone you invite should be ready to have fun and party the night away.

Decorations Make The Party Flourish
Decorations can certainly set the mood just right for a wedding, so it's important to get it just right. The table centerpieces need to be just perfect, while the floral arrangements need to be flawless. To really set your wedding apart, consider getting a custom dance floor for your wedding. These can be all white, have the couple's initials on it, or even a full design of the couple's choice. It's entirely up to you, and can really make your wedding one of a kind.

Have An Incredible Cake
The wedding cake may not be the most important part of the event, but it symbolizes the structure and security of marriage. Watch everyone eagerly look on as you both cut the cake together. It's an incredible moment that will be remembered for the rest of your life, so why not have a cake that's out of this world?

Get A Wedding Dress Nobody Will Forget
The defining part of any wedding is, of course, the wedding dress. Arguably the most difficult choice to make, the wife to be will ultimately choose the dress they feel is "the one". This takes an incredibly long time but is incredibly rewarding. To see her walk down the aisle in that stunning dress will blow everyone away.

It's important to be aware of everything you should know before you start planning a wedding. If you're interested in a custom dance floor for your wedding, then consider Bombshell Graphics. Bombshell Graphics provides several options for graphics such as the aforementioned custom dance floor graphics and other wall graphics to take an event to the next level of memorable. Our designs are beautiful and last through heavy traffic so they won't wear down by the end of the night. Call us today at (862) 210-8408 to inquire about our services!
Back to Blog