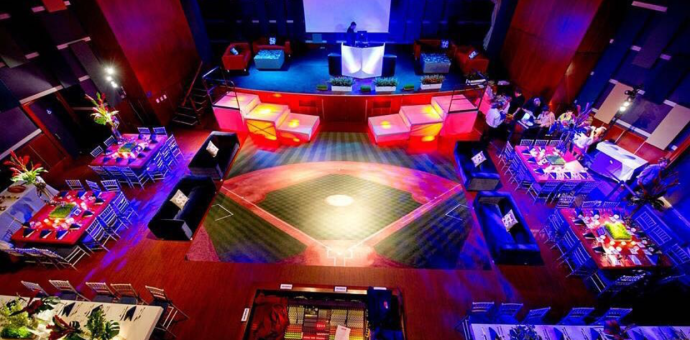 Bombshell Graphics' Halloween Decals
It's the most spooktacular month of the year, and it's one that calls for a massive celebration. When Halloween comes around, you can't just simply stand by and wait for the festivities to be over. In fact, you need to partake in the festivities. And there's no better way to do it than throwing your very own Halloween party. But if you find yourself a little short on decorations, don't fret. The staff of Bombshell Graphics is more than happy to provide you their quality Halloween decal services. If you're interested in learning more about what Bombshell Graphics can provide for you, then continue reading below.
Bombshell Graphic's Halloween Decal Services
Custom Dance Floor Graphics
No Halloween party would be complete without some dancing. And if you have a dance floor that's spacious enough, feel free to look into our custom dance floor graphics service. With this service, you can decorate your dance floor in any way you see fit.  And when it comes to Halloween, you can give your dance floor the scariest makeover possible.
When patrons come over to partake in Halloween festivities, they'll be able to dance to music while stomping their feet on spooky floor decals. Will they be dancing upon a pile of bones, or perhaps a scary monster? The choice is yours.
Halloween Wall Decals
Of course, when decorating for any party, you can't just leave the walls bare. But instead of opting-in for typical props that everyone sees every year, give your party venue that special Halloween twist with wall decals. And don't just decorate them with any normal decals, decorate them with Bombshell Graphics Halloween wall decals.
We can promise you that when you hire Bombshell Graphics, your Halloween wall decals will be unlike anything you've ever seen before. And when you set them up in your party venue, it won't seem like a party anymore, it will seem as if patrons are going through a haunted house. With our wall decals, we feel certain that you'll leave a lasting impression on guests and attendees.
Halloween Signs & Banners
One of the absolute best services that are provided by Bombshell Graphics is their fabrication of signs and banners; party accessories that are needed for just about any celebration. Signs and banners are an excellent way to convey information and can even be used to designate a certain section of a party. And trust us when we tell you that nothing screams "Happy Halloween" louder than a Halloween-themed banner.
If you have an apple-bobbing station at your Halloween party, a sign or banner will help you out a lot. Or if you just wish to welcome guests, they can work for that, too. Whatever you wish to accomplish at your party, our Halloween signs and banners will help you.
Contact Bombshell Graphics Today For Their Quality Halloween Decals
When you're ready to throw the absolute best Halloween party around, don't hesitate at all in contacting Bombshell Graphics. Bombshell Graphics has been providing its quality services for many years, making them one of the absolute best graphics and decals service providers around. When you hire Bombshell Graphics for their Halloween decals services, we feel certain that you'll benefit tremendously from their work as you're added to their growing list of satisfied customers. For any inquiries, you may call us at 862-210-8408 or visit our contact page.
Back to Blog